Michigan Commercial Construction Services
At ESCGI Construction Group we understand that every commercial property needs regular maintenance and repair. Whether for a single visit or a continuing maintenance schedule, ESCGI Construction Group will arrive on time, prepared and eager to start work immediately. ESCGI Construction group is experienced business who are insured, bonded, and uniformed. We are trained on the importance of customer service, producing high quality work, and leaving your place of business tidy and clean to your satisfaction.
ESCGI Construction Group Rebuilds Detroit Michigan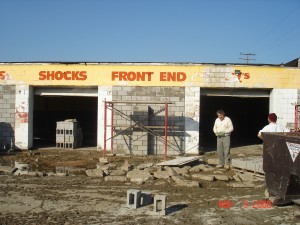 The Motor city offers much more then the big 3. From Auto Repair Centers to Art Institutes, let the professionals at ESCGI Construction Group be your first choice to repair your business. A year ago,  ESCGI Construction Group was called to rebuild this Auto Repair Center. The business needed a total transformation including a new foundation. ESCGI Construction Group understands that Michigan Commercial Services must be done quickly and of course professionally. We have crews that can work around the clock and weekends to ensure that your business will be up and running. Please contact us for a free quote today so we can get started tomorrow.